How New Life Agency Supports Surrogacy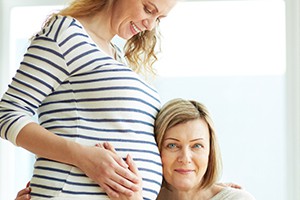 As part of the surrogacy process, an insurance policy in the amount of $250,000 must be purchased to cover the health/life of the surrogate mother. The purpose of the insurance policy is to protect the surrogate's health/life and the intended parents' financial exposure.
New Life Agency Insurance Policy
The terms and cost of the insurance policy will be quoted by New Life Agency. The surrogate will be reimbursed for this expense by the intended parents. The primary beneficiary or beneficiaries of the insurance policy will be named by the surrogate.
We highly recommend our surrogates and intended parents consider New Life Agency for information and assistance in securing a policy. New Life specialized in surrogacy insurance and has insured over 3,000 births worldwide.
New Life is the only full service insurance agency specializing exclusively in Assisted Reproduction Insurance for fertility patients and Assisted Reproduction Technology (ART) professionals.
Fertility patients
Newborn twins
New families
Leading Surrogacy Agency
At New Beginnings Surrogacy, we offer a unique approach to the gestational surrogacy process for intended parents and their surrogate.
Devotion to an inviting, reliable and enjoyable gestational surrogacy experience
Providing gestational surrogacy services above and beyond
Taking care of you throughout every step of the gestational surrogacy process
Offering the highest gestational surrogate compensation rates to ensure every intended parents' best choice
Offering a personal care dedicated coordinator
Offering a reference for legal consultation
Offering a reference for medical consultation
Providing expedited gestational surrogacy matching services back by a proven success record
How Gestational Surrogacy Works
After a perfect match has been made, we will work in sync with a leading fertility specialist to help facilitate the embryo transfer process between the intended parents and their chosen surrogate through IVF.
Gestation Surrogacy may be achieved in a variety of IVF protocols.
Intended mother's eggs
Intended father's sperm
Donor sperm
IVF Protocols
Breakdown of Intended Parents' Cost
The estimated cost for the surrogacy process ranges between $90,000 – $175,000. The final cost to the intended parents is dependent upon the IVF protocol recommended by their fertility doctor.
What New Beginnings Surrogacy Offers
Top compensation for surrogate mothers
Strict screening for surrogate mothers
In-depth review of medical records
In-depth psychological evaluation
Physical and medical testing
Inviting, reliable, and enjoyable experience
Service above and beyond to take care of clients every step of the process
Highest gestational surrogate compensation packages
Personal care through dedicated coordinators throughout the gestational surrogacy process
Legal and medical counseling
Fast matching services with a proven track record
Higher chance of pregnancy success
Less physical risk to the intended mother
Compensation for Surrogate Mothers
We are proud to offer among the highest compensation packages for surrogates in the United States.
If you meet our basic mental and physical health requirements, you can experience the joy of surrogacy and give a childless couple the gift of life. Take our user-friendly Prescreening Quiz to begin your application process today!
How much do first-time surrogates make? If you are new to surrogacy, you must have a history of healthy childbirth and be between the ages of 21 and 39. As a successful first-time surrogate, you can expect to receive a base compensation ranging between $35,000 and $40,000.
Experienced surrogate compensation
If this is your second or third time as an experienced surrogate, you will receive $5,000 in addition to a base compensation ranging between $35,000 and $40,000.
Multiple pregnancy (twins)
Should you agree with your Intended Parents to transfer more than one embryo during the IVF procedure, and you are impregnated with twins, you will receive $5,000 in addition to your base compensation.
Surrogacy Experts
New Beginnings Surrogacy's Team of Experts want to help guide you through the entire surrogacy process. Schedule your consultation by calling 844.873.5836.